Daily Harvest Kit
Sale price Price £52.00 Regular price £65.00 Unit price / per
Free Delivery | incl. VAT
✔ 

Extremely nutrient dense
✔ 

Exciting ingredients for recipes
This kit contains
everything you need
to grow a huge amount of microgreens and leave you with the equipment to grow more in future. A full tray will produce a
huge amount of greens
. Just snip off as much as you need and
leave the rest to keep growing
.
✔  

1KG Organic & Untreated Microgreens Seeds.
✔

 

 

Soil Mix For Microgreens
✔

 Full Guidance On How To Grow
* KEEP THESE TRAYS FOR NEXT TIME! JUST GET SOIL AND SEEDS! *
You can send us an
e-mail
and ask us anything - we can provide
recommendations and tips
for optimising your grow!
Customer Reviews
01/23/2021
Diane L.

United Kingdom
Microgreens
Very good, although I had to hunt around for trays to sit them on
02/02/2021
Wholesale Microgreens
Dear Diane, We do have trays in stock that you can use as bottom watering trays - although depending on where you're growing them you may prefer something that suits your interior design preferences.
08/01/2020
Stewart I.

United Kingdom
FAST
Great website fast delivery , would order again
06/16/2020
RUSSELL T.

United Kingdom
Excellent product and customer service
Had a slight blip with our order which was no fault of Wholesale Microgreens. Their customer service was excellent and followed up with helpful emails.  The product itself is excellent with everything you need to start growing microgreens. For instructions on growing microgreens we found that YouTube was the best source of information.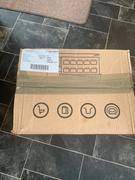 05/24/2020
Stephen H.

United Kingdom
05/24/2020
Andrew B.

United Kingdom
Harvest Kit
As soon as it landed on the front door step we started there and then great sucsess with the radish's and pea shoots, may think about growing instructors for the amaranth Very pleased with the kit
05/23/2020
Chaynee W.

United Kingdom
Excited
Never grown microgreens before but looks easy and tomatoes were good last year so going to give them a try
05/23/2020
Wholesale Microgreens
Super easy and extremely fast - it can take months to get fruit from a tomato. Microgreens can be eaten after as little as 4 days! Enjoy and happy growing.
05/23/2020
Brendan J.

United Kingdom
I need more space!
I under-estimated the size of these trays - They're way bigger than I thought. I decided to just grow 4 of the 8 trays at a time until my shelf arrives to put them all on! Will be ordering more soon!